Thursday, December 23, 2010
Christmas is just around the corner and Carlsberg has already thrown an awesome party at Euphoria, Sunway. There was performance by Joanne Kam, DJ Miss Match.
The Deco surrouding the stange
Carlsberg's own Green Santa, Ho Ho Ho.
There's a live band performance which is really good, but i forgot the name of the band. Sorry about that.
There was the Carlsberg's gal, green elf's.
Boss, you're looking for something, Joanne Kam in Pink, She's a really good comedian.
Bottoms up, cheers ah.
You'll never guess what she took out from her Long Kang.
One of the cutest Mc i ever seen, anyone got her no/ Facebook?
Tuesday, October 19, 2010
Last month i attended one of my friends wedding dinner, it's quite amazing watching the people around you moving on to the next stage of their life. It's amazing watching both of them from friends to couple till now becoming each other's soul mate, i'm so happy for them.
This is the Lovely Couple of the Day. Man Hong & Lily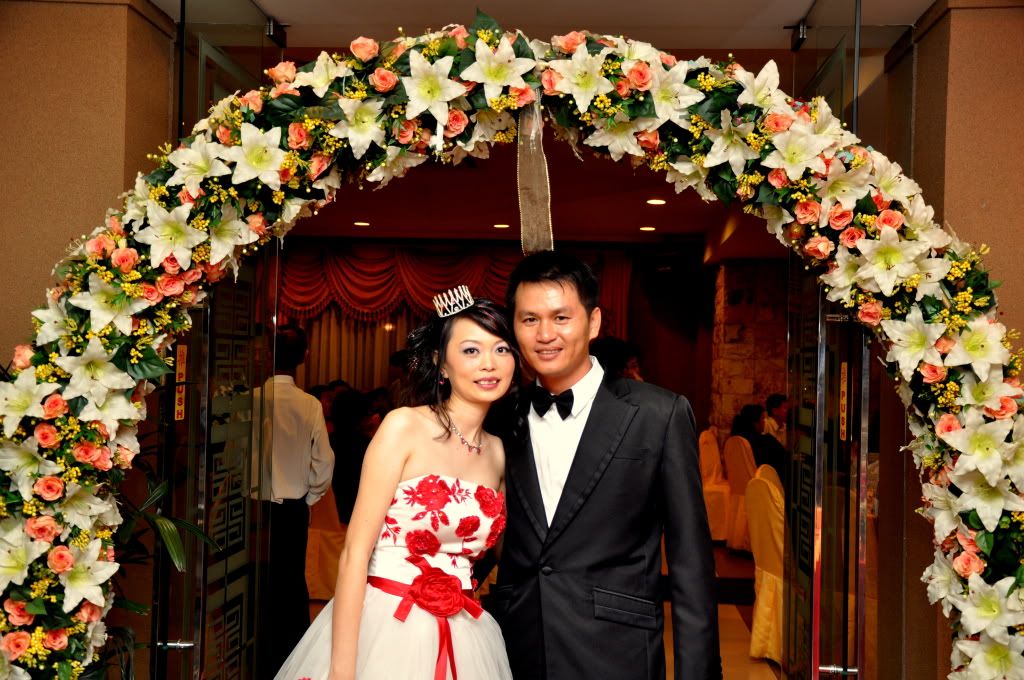 Group shot with the Couple
This photo was taken after the wedding dinner, where most of us was drunk at that time.
Me being drunk and forcing the couple to take pictures with me, LOL.
Congrats to both of you, stay happy forever.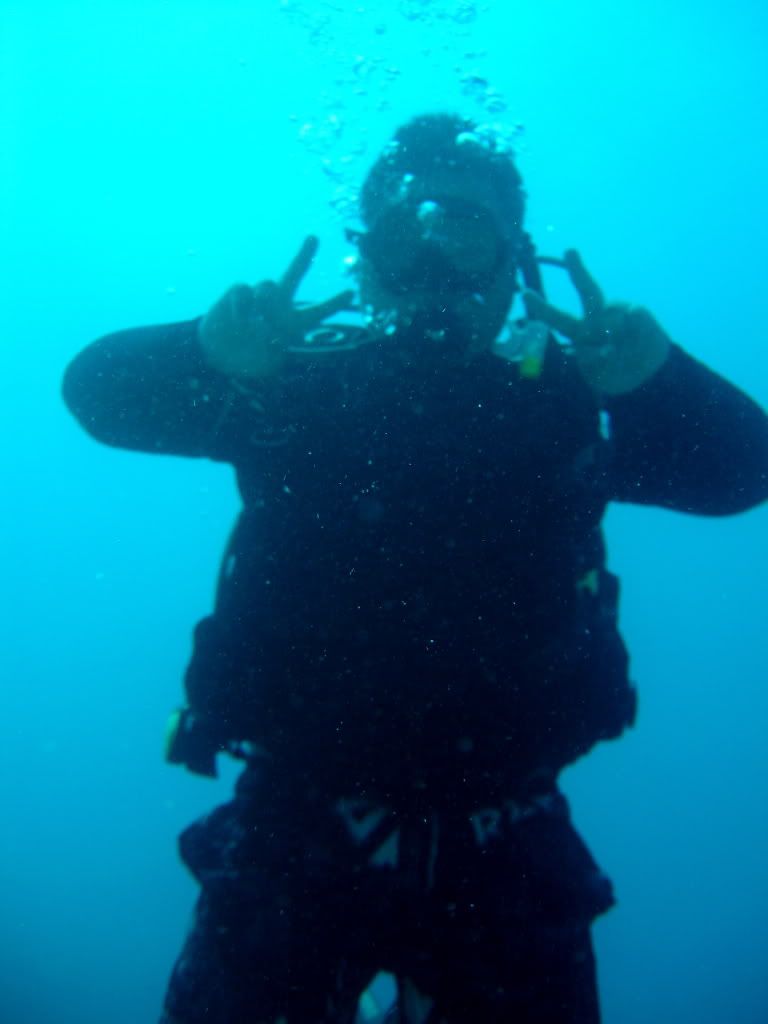 I always wanted to learn Diving since i was a little kid, i envy those fishes swimming in the sea freely. This has to goes back to a few months back, that time i was catching a movie with a few of my friends. When suddenly my friend, Khik came and said hi to me. We chit chat a while, and Khik told me that he's going to learn diving. At that moment i was shock and i ask for a business card from him, which he's working in a Travel agency. Later that night while i was lying on my bed thinking of what Khik told me, and i decided to chase after my childhood dreams. I text Khik and ask him to check is it possible to add another person into his trip. I anxiously waited and yes Khik called me back saying that i can join them, i was like jumping up and down the floor. It's a really last minute choice, since we'll be leaving in another 24 hours.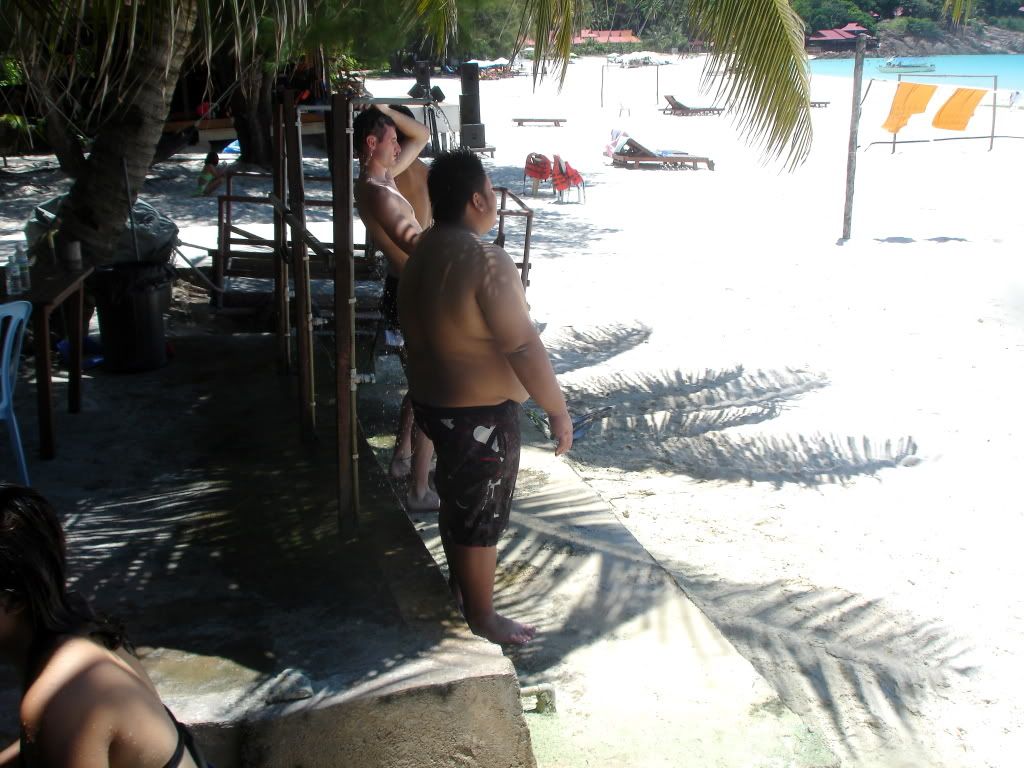 In the beginning it was quite a task for me as you can see my body size, it's really hard to find a diving suit for me. I ended up wearing a Surf suit borrowed by one of the instructors.
This is me in my full gear, the gas tank might look small. The gear's weight i think should be more then 15KG, carrying those babies from the Dive Center to the Shore it's not a easy task. Lucky i'm a Big Dude, LoL.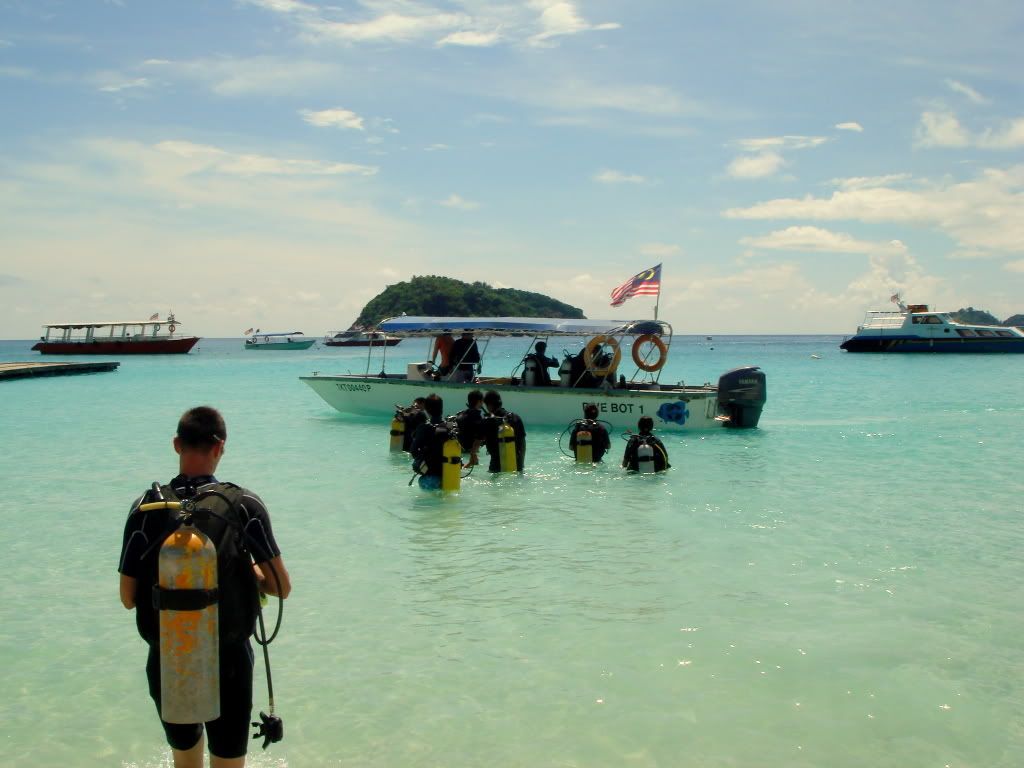 This is me and our gang, preparing to board the Dive Boat that going to take us to Kerengga Island. We're heading to the big blue and discovering Corals and marine lives.
This is our own group photo from the right our instructor William, thanks for guiding all of us. Notice my face is so pale, i'm getting so hungry at that time due to lack of food.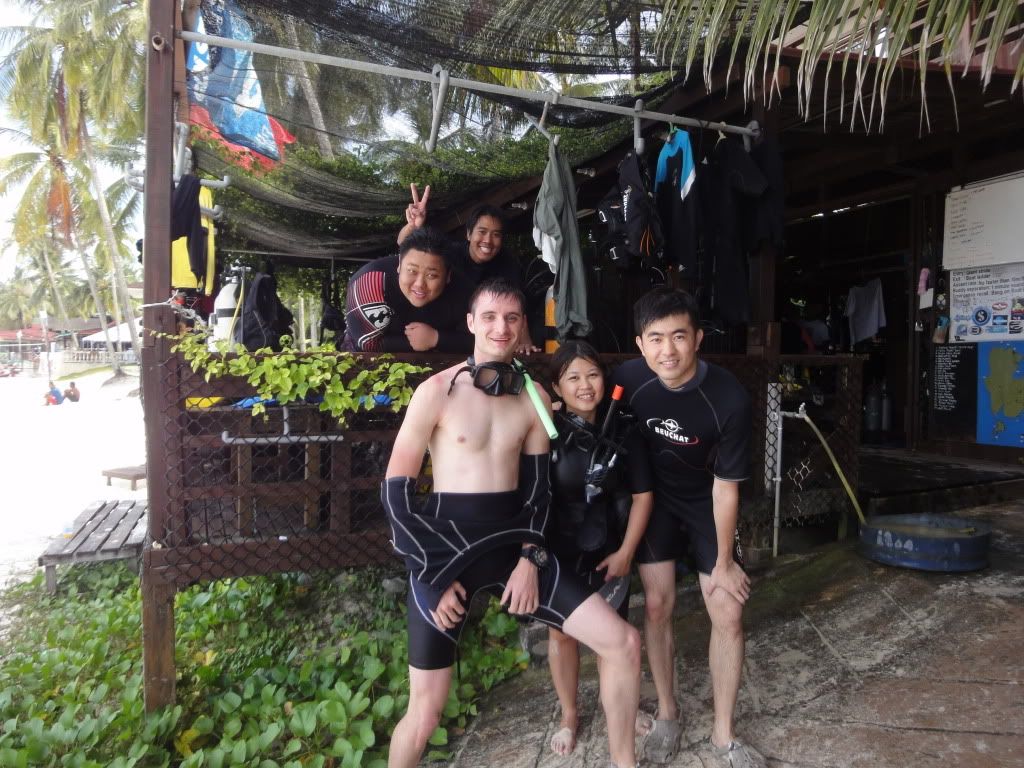 This is the corner of our Dive center, we wash ourself and our gear here. Notice me, the dude behind me is Khik.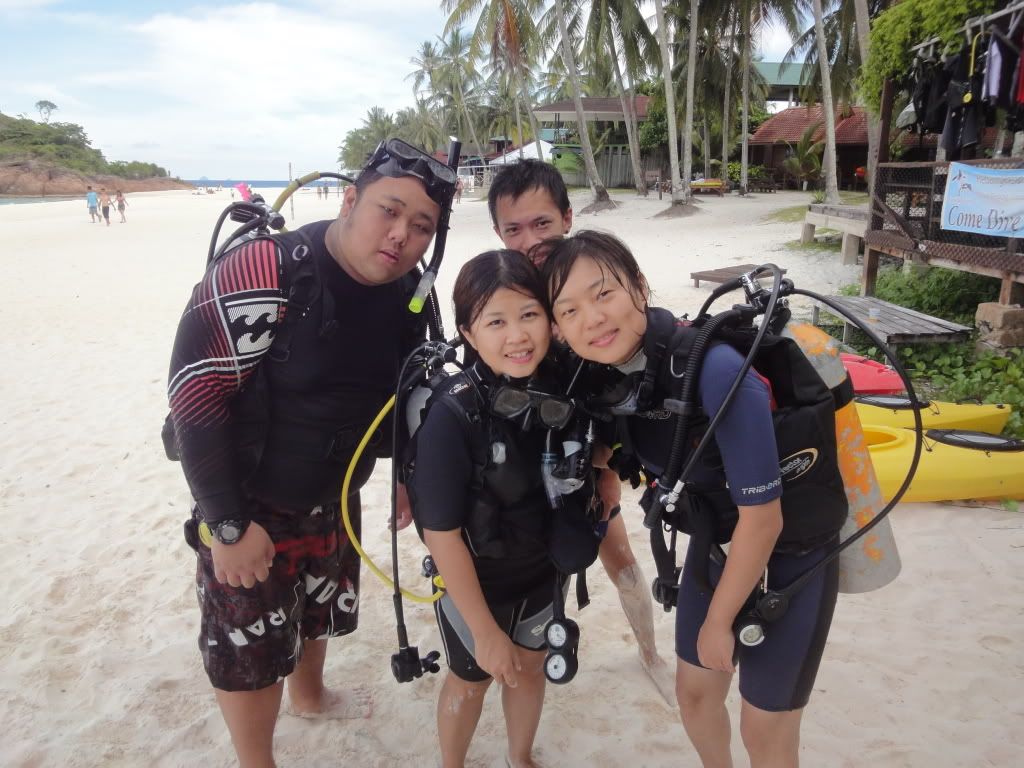 The 2 Lovely ladies that dive along with us, Lina & Suki. Here's a fun part, when i was on my second dive, i kicked Lina right on his head. Sorry for that Lina.
This trip is so Tiring, Fun, Awesome, Salty and Tough, It's worth every penny.
It's been 2 months since i'm back from Redang Island. I've miss every single thing that's on that Island, the blue sky, sea breeze, the soft sand. It was like heaven, but reachable.
The main reason i'll show up at here is because i'm getting my Diving Licence, it's been a dream when i was small imagining me myself as a fish swimming along with those cute little fishes. The best part was i encounter with a Turtle, it was one of the most awesome moments of my life, too bad i can't take a picture of it. This is one of mine diving buddy, Allan.
This trip really means a lot to me, i learned that Practice does make perfect. At the start when all of my buddies was getting a hang of the diving skills, i'm struggling to keep up with them. I swear to God at that time i was thinking to Quit, it was too hard i kept drinking sea water it taste bad and salty. I almost cried on that moment thinking that i'm a loser and i can't achieve anything in my life. Lucky i met Terry, my diving instructor. He encourage me not to give up and convince me to kept trying, he gave me a one to one practice, while my other buddies stick with our other Instructor William. Yes, i must admit. I'm a slow learner and thanks to Terry's afford of pushing me to my own limits, i finally achieve what i wanted all along. Thanks again, Terry.
It's the night i'll been waiting for, celebrating for our graduation. We sure party hard and enjoy every single moment of it. I was shaking and jumping all over the place. It's sure been the happiest moments of my life ever.
Here's my crazy gang, we go people coming from USA, PRC, AUS. Though we just meet for a few days, but we ended up as good friends. It was fun hanging out this gang, sure maybe we're from a different country plus different culture but we sure rocked it with GAGA's Style. Baby.

We're planning to meet up again at March 2011, see you guys. =)
It's been a while since my gang and i started playing basketball in the night, ya i might be not that good at Basketball. Yet, i enjoyed every single moment i spent with precious Basketball gang. It's really hard to find a gang of people that hearted the same hobby.
Wednesday, April 21, 2010
Hi everyone, meet Baby Ling. She's a baby day caring by my friends mum.
This is the first time i'm taking baby photo.